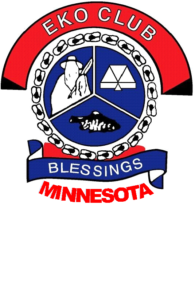 Welcome and thank you for visiting our website. Here you can find more information about our great organization, Eko Club Minnesota and our community in Minnesota. Eko Club Minnesota is a community-based organization of Lagosians (citizens of Lagos State, Federal Republic of Nigeria) domiciled in the great state of Minnesota. The organization is formed as a chapter of the Eko Club International (ECI), the national body. ECI is a not-for-profit community-based organization of Lagosians in the US, Canada and Europe — established to foster cooperation and collaboration, unity, brotherhood and sisterhood amongst its members, to empower its members politically, socially and economically and to contribute positively to the advancement and prosperity of Lagos State. There are 15 chapters in the US, one in Canada and one in England to date.
Eko Club Minnesota since formation has been leading from the front in projecting the mission of ECI through its programs and activities. The organization championed the ECI medical mission, "Mission of Hope" to Lagos State, Nigeria in 2007 and 2008 respectively, donated generously to the ECI computer project for the Lagos State University (LASU) department of engineering and science, to name a few. The organization is also involved locally through its yearly donation of winter coats to the Salvation Army Coats for Kids project and the annual Back to School Picnic. We are in the process of establishing a scholarship program for college-bound kids in the community. These are samples of the organization's activities.
Eko Club Minnesota periodically seeks donation through fundraisers from corporations, foundations, small businesses and individuals. These donations are used to fund the many programs and activities of the organization. Our goal is to continue to make a difference in our community by adding value to it. We hope you will support our efforts and aspiration.
Thank you for your support.
Regards,
Gbolahan Gbadamosi, P.E.
President